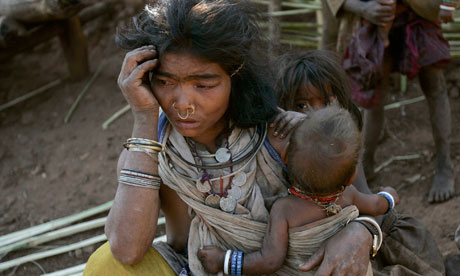 The Amnesty International section in the UK announced today that Bianca Jagger (ex-wife of Rolling Stones frontman Mick Jagger) has submitted 30,000 signatures on a petition asking Vedanta Resources, a large UK-based company to respect the human rights of the Dongria Kondh people of the Indian state of Orissa (see more, here and here).
The petition adds yet more voices to a chorus of criticism of Vedanta's governance and ethical standards. Last week responsible investment research specialists EIRIS published recommendations to address investors' concerns about Vedanta's environmental, social and governance practices. Dutch pension manager PGGM divested their £11m stake in the company earlier this month.
Vedanta Resources, through its subsidiary companies, plans to mine for bauxite in the Niyamgiri Hills, considered sacred by the indigenous Dongria Kondh community. The proposed mine may also threaten the community's rights to water, food, health and work. Final permission for the projects is pending with the Indian Ministry of Environment and Forests, whose expert panel is due to report their findings shortly.
Bianca Jagger said:
I appeal to investors – including local UK councils who still hold shares in Vedanta – to listen to the voices of the Dongria Kondh and consider the human rights consequences of the proposed mine. I will continue to campaign in support of the Dongria Kondh until their demands are heard.
Let's hope that Vedanta will heed her words.